The Ackerman Center for Excellence in Sustainability (ACES) offers opportunities for students throughout the University of North Carolina at Chapel Hill to build their business sustainability skills and experiences, inside and outside the classroom.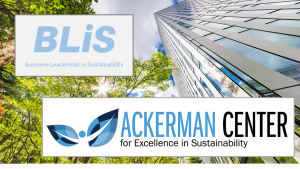 During the academic year BLiS provides opportunities for students to learn how to use sustainability frameworks to assess North Carolina companies and determine the winners of our annual Sustainability Awards.
---
LEARN
Attend one of our introductory sessions to learn about the sustainability frameworks we use when analyzing companies' work in sustainability. Frameworks include Impact Frontiers, United Nations Sustainable Development Goals, Breakthrough Mindset, Bcorp, Sustainability Accounting Standards Board and Global Reporting Initiative.
EXPERIENCE
Evaluate established companies and entrepreneurial ventures that do business in North Carolina as part of the nomination and selection process for ACES' annual UNC Sustainability Awards.
PERSONALIZE BLiS
Choose an industry and companies that matter to you! You can analyze entrepreneurial ventures, multinational corporations, investment firms or anything in between. Use this to facilitate your job and internship searches. Create professional relationships on topics that feed your career passions. This can help build your network and create valuable relationships within companies and industries that fit with your interests.
RECOGNITION & RESUMÉ
Receive recognition from ACES as a BLiS Associate so you can highlight this valuable and unique experience on your resumé.
SCHEDULE
Choose from three introductory sessions:
8 PM – 9 PM EST on Monday, December 4
8:30 AM – 9:30 AM EST on Tuesday, December 5
12:00 PM – 1:00 PM EST on Thursday, December 7
If you cannot make any of these three sessions, do not worry! We will work with those who cannot make them to try to find a different time. We will also record one of them.
Work on your own time!
Once you have learned a little about these frameworks you will:
Choose at least two companies you want to delve into and join others on teams to make the experience even more robust
Reach out to the companies in December or January
Join a workshop in January to help you organize your findings
Join or watch a recorded session on analyzing inter-industry comparisions
NOMINATE COMPANIES AS A TEAM!
By February 24th: Vote to nominate companies researched by the entire BLiS team!
Nominated companies are then voted on by student club leadership to determine the winners of our UNC Distinguished Business Winner in Sustainability and our UNC Sustainability Distinguished Entrepreneurial Venture.
SIGN UP!
Sign Up for BLiS